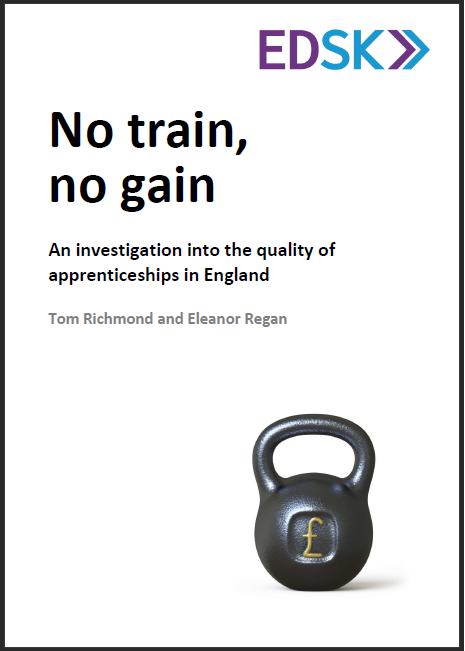 10 years ago, the Coalition Government commissioned the 'Richard Review' to ensure that apprenticeships in England were "consistently delivering high quality training". The Review called for a package of reforms that aimed to deliver a "world class" system, which centred around a new 'employer-led' approach that has allowed employers to control the design and provision of apprenticeships over the past decade. This report investigates what has happened to the quality of apprenticeships after ministers and civil servants sought to implement the Review's proposals.
Low skill roles being rebadged as 'apprenticeships'
The Richard Review was clear that apprenticeships were "most meaningful" for jobs requiring "substantial training and high levels of skill" and that "other forms of training" should be used to support individuals into lower-skilled jobs. A decade on, the apprenticeship system is still littered with low skill roles masquerading as 'apprenticeships' even though they clearly do not require 'substantial training' (despite this level of training being a mandatory element of all apprenticeships according to the Government).
Numerous job adverts on the Government's own apprenticeship vacancy website (see pages 21-26) lay bare the low expectations of many 'apprenticeships'. In the hospitality sector, learners can end up heating and serving precooked meals and pushing around a drinks and snacks trolley as a 'Food and Drink Apprentice', or washing, drying and ironing clothes as an 'Apprentice Housekeeper'. Other low skill 'apprenticeships' can be found in offices who hire apprentices to answer phone calls and take messages for colleagues as well as leisure venues who recruit apprentices to greet customers, take bookings and serve soft drinks. None of these roles represent skilled occupations (another mandatory part of the Government's definition of an apprenticeship) and they typically offer just £4.81 per hour – the apprenticeship minimum wage – in return for a poor experience.
To emphasise how little skill these 'apprenticeships' require, employers often admit that these jobs can be performed with minimal training. 'Retail apprenticeships' have proved popular in many supermarkets and other outlets, even though employers state the same skills can be taught in just six weeks outside of the apprenticeship system. This absence of substantial and skilled training is equally evident in the 'apprenticeships' for driving delivery vans, working in a coffee shop and dog grooming among other roles, which typically require no more than a few weeks of training – thus confirming that a 12-month 'apprenticeship' is wasteful and misleading for potential recruits.
The misuse of the apprenticeship brand
The Richard Review criticised the use of apprenticeships to upskill existing staff or accredit their existing skills, calling it "the wrong approach to training and… distracting apprenticeships from their core purpose". Nevertheless, the Review's recommendation that such activities "should remain clearly distinct" from apprenticeships has not been implemented. Over 40 per cent of 'apprentices' in 2020/21 had been with their employer for over a year prior to starting their apprenticeship.
The Review also warned that using apprenticeships to upskill staff would represent poor value for money. Even so, by far the most popular 'apprenticeship' in England is a training course to become a 'Team Leader', which has attracted around 90,000 learners over the last five years – almost 70 per cent more than any other apprenticeship. Employers can access £4,500 for each employee enrolled on this course, despite a similar programme being available outside of the apprenticeship system for just £1,300.
In addition, the Richard Review objected to the "drift towards calling many things apprenticeships which, in fact, are not", adding that apprenticeships must be used for "real and specific skilled occupations". However, many current 'apprenticeships' have nothing to do with real occupations, with some employers choosing instead to invent fake job titles to access apprenticeship funding. This includes training courses called 'Senior Leader' and 'Accountancy or Taxation Professional', with the latter absurdly claiming to encompass roles as diverse as accountants, tax advisers, auditors, management consultants and business advisors in a single 'apprenticeship'. Such courses are not recognised jobs or occupations (yet another breach of the Government's definition of an apprenticeship) and are hugely expensive, with the 'Accountancy or Taxation Professional' consuming more funding than any other apprenticeship over the last five years at a cost of up to £21,000 per 'apprentice'.
Apprentices denied the training they are entitled to receive
The Richard Review emphasised that off-the-job training "adds value" to the experience of apprentices by giving them "safeguarded time away from their job to ensure they can do substantial training". Since the Review, apprentices have been entitled to a minimum of 20 per cent of their working hours to be spent on off-the-job training activities – equivalent to one day a week. Even so, one in five apprentices are not informed about this entitlement, with even lower awareness among hospitality and retail apprentices as well as entry-level apprenticeships more broadly. Worse still, more than half (54 per cent) of apprentices do not receive the minimum one-day-a-week of off-the-job training, and 30 per cent report receiving no training at all from their training provider during the entire working week.
Even where off-the-job training is being delivered, it is often poor quality. The Richard Review had criticised training providers for "too often" restricting off-the-job training to "self-guided learning" by apprentices, yet little has been done since then to eradicate this problem. Under the current apprenticeship funding rules, training providers are allowed to count the "time spent [by apprentices] writing assignments" (including homework tasks) as 'training' – an appalling distortion of what an apprenticeship is meant to entail, and an obvious loophole for unscrupulous providers to spend as little time and money as possible delivering genuine training while claiming the maximum available funding from government.
What's more, the current funding rules place no restrictions on the amount of 'online learning' that can take place, meaning that apprentices can go weeks, if not months, without having any face-to-face contact with their training provider or receiving any direct training. Even 'degree apprenticeships' are being delivered by some Higher Education providers entirely through webinars, recorded lectures and online forums, with barely any face-to-face contact throughout the entire multi-year course. Apprentices are rarely made aware of such practices by their training provider before their apprenticeship commences.
Employers ignoring their responsibilities
On-the-job training delivered by employers is a crucial component of apprenticeships, especially as 80 per cent of an apprentice's time is supposed to be spent in the workplace. The Richard Review heard from apprentices that on-the-job training improved their overall experience as they valued the "on-site application to achieve and embed" their off-the-job learning, alongside "work-based time to build experience" and having someone mentor them. Despite the value of this type of training, one in five (19 per cent) apprentices report receiving no on-the-job training at all from their employer, rising to one in four (26 per cent) for those on entry-level apprenticeships.
What's more, the Richard Review emphasised the importance of creating a "clear and common understanding of what is expected from the apprentice and the employer from the outset", yet employers and training providers are not required to provide apprentices with a curriculum or syllabus setting out what they will actually learn on their course. This means that prospective apprentices are left to make decisions about their future with barely any knowledge of what they are signing up to – something that would never be tolerated for university or A-level applicants. Denying apprentices access to detailed information about their training course also leaves them at risk of a poor-quality experience because they have no reference point for what training they should receive on their apprenticeship. The continued absence of a 'clear and common understanding' of what apprentices should learn is so pervasive that one in ten learners are unaware that they are even on an apprenticeship.
The experience of apprentices with their employers also varies significantly across sectors. While the Richard Review was clear that apprenticeships are "a form of education, based in the workplace", many apprentices are being denied the core education element of their programme. This is particularly common in social care and retail, where apprentices are often treated as "workers rather than learners" and are given few opportunities to learn new skills during working hours. A lack of high-quality training from employers has been linked with low satisfaction levels among apprentices as well as an increased chance of them dropping out of their apprenticeship, with some apprentices leaving precisely because their employer "prioritised their employee role over their apprenticeship requirements". The OECD has highlighted that England remains an international outlier by acting as if on-the-job training is a "marginal" issue despite it representing "the traditional heart of apprenticeship".
Conclusion
The Richard Review set out to ensure that apprenticeships in England consistently delivered high-quality training. A decade on, the evidence in this report shows that many apprentices are still being badly let down by the current system. From the outset, applicants are kept in the dark with little information about what an apprenticeship will offer them. Even after their apprenticeship begins, learners can find themselves working in low-skill low-level positions while being paid far less than the national minimum wage. At the same time, employers have taken advantage of the opportunity to create 'apprenticeships' out of fictitious job titles, which typically turn out to be little more than training courses for their existing employees. Regardless of which apprenticeship they have signed up to, apprentices across the country are also not receiving the necessary training from their employer or training provider, with many left largely to their own devices and receive no training at all.
In light of these uncomfortable truths, it is perhaps unsurprising that almost half (47 per cent) of all apprentices are now dropping out before completing their course. A staggering 70 per cent of those who drop out report concerns about the quality of their apprenticeship – equivalent to around 115,000 apprentices a year. These concerns include, among others, their apprenticeship being low quality, badly organised, unhelpful or lacking the rigorous training that they rightly expected. If A-level or university students were dropping out in such large numbers or reporting similar complaints then it would be a national scandal. On that basis, there is no justification for tens of thousands of apprentices having to tolerate such a disheartening experience.
While there are many excellent apprenticeships available, this report has no choice but to conclude that the quality of apprenticeships in England remains a serious problem. While an 'employer-led' approach to apprenticeships was a valid aim, the evidence strongly suggests that many employers are either unable or unwilling to offer apprentices a high-quality experience. Meanwhile, some training providers continue to make the most of the weak rules around training quality and the noticeable lack of enforcement from government. As a result, the majority of apprentices are being denied even their minimum entitlement to a decent training programme – a clear breach of the funding rules that apparently comes with few consequences for the training provider.
The only way to eradicate poor provision and substandard training within the apprenticeship system is for the Government to now set a much higher bar for what constitutes 'quality' as well as consistently enforcing the rules and procedures that were intended to protect apprentices from malpractice and exploitation. In other words, our apprenticeship system should be reconfigured so that it puts the needs of apprentices alongside the needs of employers. If this change in culture and mindset does not materialise in the coming years, apprenticeships will continue to be "considered second class" and lack the prestige tied to attending university – as the Richard Review warned ten years ago. The recommendations in this report set out how policymakers can start a new journey towards building a high-quality apprenticeship system that is as respected and admired as a university degree. The reforms needed to reach this goal cannot come soon enough.
Recommendations
Creating a better experience for apprentices
RECOMMENDATION 1: The Government should publicly restate its commitment to the Richard Review's definition of what constitutes a high-quality apprenticeship that benefits learners as well as employers. Any 'apprenticeship' that does not meet this definition should be immediately banned from accepting new apprenticeship starts and fully withdrawn by 2024.
RECOMMENDATION 2: To create a common and transparent understanding of the training programme that apprentices will receive, employers should be required to produce a 'training curriculum' for each apprenticeship standard from 2024 onwards. The curriculum (designed in collaboration with Awarding Organisations and training providers) will set out a complete list of the content, tasks and activities that will be delivered to learners over the course of their apprenticeship.
RECOMMENDATION 3: To ensure that all apprenticeships are for skilled occupations and roles that require at least 12 months of training (as specified in the existing funding rules), every new training curriculum must include a minimum of 300 hours of off-the-job training in every year of the apprenticeship.
RECOMMENDATION 4: To prevent any employer or provider from ignoring their responsibilities to offer genuine training to every apprentice, a minimum of 200 hours out of the new 300-hour annual training curriculum must be delivered face-to-face. Any time spent by an apprentice completing homework or other assignments will also no longer be counted as 'training'.
Creating a better system for delivering apprenticeships
RECOMMENDATION 5: To build an apprenticeship system that benefits learners, taxpayers and wider society as well as employers, the Institute for Apprenticeships and Technical Education (IfATE) should be redesigned as a collaborative partnership that is guided by the views of its main stakeholders and beneficiaries.
RECOMMENDATION 6: As part of a new drive to improve the quality of off-the-job and on-the-job training, the Government should hand responsibility for approving and inspecting apprenticeship providers to a new body: the National Apprenticeship Inspectorate.
RECOMMENDATION 7: To promote the supply of entry-level opportunities and clear progression routes into genuine high-quality apprenticeships, the 'traineeships' programme should be expanded. A bursary of £100 a week should also be introduced for trainees to support them with expenses such as food and transport.
BBC – Warning apprentices quitting over quality of schemes
FE Week – Create new 'national apprenticeship inspectorate', says think tank
NOVEMBER 2022