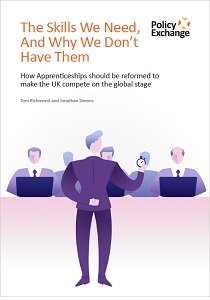 Apprenticeships have enormous potential. In terms of brand awareness amongst employers and would-be apprentices, they offer the best route for delivering high quality technical education. But the concern is that not enough of the new apprenticeship standards will deliver the quality that is needed. This report concludes that it is time to put the Government's apprenticeship reforms on a new path that gives the programme stronger foundations and a better educational and economic rationale as part of a more coherent vision for what our apprenticeship system could and should deliver for apprentices, employers and taxpayers across the country. In particular, this report details a series of recommendations across three main themes:
Set a clear goal for the Apprenticeship programme based on international  best practice – and which is not about number of apprenticeships taken up
Redefine all existing and upcoming Apprenticeship standards to focus  unequivocally on quality
Design a delivery infrastructure and funding model that supports apprenticeships and wider high quality technical education qualifications
It is easy to see how the current approach, if not unchecked, risks leaving apprenticeships by 2020 in the same position as Train to Gain a decade earlier; a programme consumed with numbers, that lost sight of quality, that sought to bring in all forms of training within its orbit, and did not consistently  deliver the transformative outcomes which were required. A skills system in a country that works for everyone, not just a privileged few,  has the potential to do so much better. This report sets out how this can be done.
BBC News – apprenticeships: quantity, not quality
The Sun – ministers are wasting a staggering £500 million a year on poor quality apprenticeships
TES FE Magazine – £500m spent every year on substandard apprenticeships, study warns
FE Week – Move away from 3 million apprenticeship target to avoid 'wasting £500 million' says influential think tank
FE Week – Government's recent apprenticeship reforms were well-intentioned but miscalculated (expert column)
NOVEMBER 2016
CLICK ON THE IMAGE ABOVE TO DOWNLOAD THIS PUBLICATION