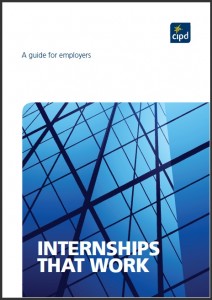 This guide was aimed at employers that are either thinking of starting an internship programme for the first time or wish to improve their current offering. The guide covers six principles of high-quality internships:
1. RECRUITMENT;
2. PAYMENT AND DURATION;
3. INDUCTION;
4. TREATMENT;
5. SUPERVISION;
6. REFERENCE AND FEEDBACK.
Each of these principles is given a dedicated section within this guide and goes on to suggest how they can be addressed in a way that gives the greatest benefit to both the intern and the employer. At the back of the guide, you will also find a checklist for employers to use when assessing the quality of their internship programme and a voluntary written agreement that gives employers the option of formally recognising their commitment to the principles in this guide.
BBC News – Interns exploited by employers
DECEMBER 2009
CLICK ON THE IMAGE ABOVE TO DOWNLOAD THIS PUBLICATION